Exploring Different Types of Barcodes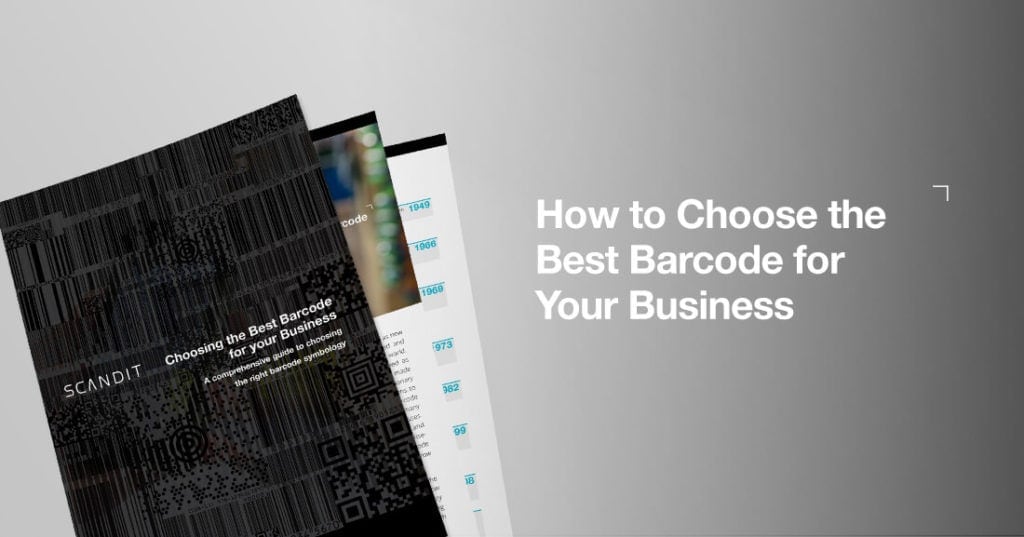 Recently we released a barcode generator tool which can create QR, UPC, EAN, ITF, Code 39 and Code 128 barcodes! Besides these barcodes, the Scandit Barcode Scanner SDK also supports barcodes such as Datamatrix and PDF417. Today we're going to take a look at all these different code types and what their uses are.
Different applications use different barcode symbologies. Consumer goods manufacturers almost exclusively use UPC-A and EAN-13, and also their corresponding small size versions UPC-E and EAN-8. Some retailers place their own barcodes on products and often use Code 39 and ITF barcode symbologies. Supply chain applications often use the Code 128 symbology, for example in the labeling of units with serial shipping container codes (SSCC). More recently, 2D barcodes like QR codes, Datamatrix and PDF417 have gained significant attention for applications requiring barcodes with higher levels of data storage.  Here's the breakdown:
UPC

Example UPC-A barcode UPC barcodes are used on consumer goods at the point of sale in North America, the United Kingdom, Australia, New Zealand and in other countries across the world. The UPC-A variation encodes 12 numerical digits while UPC-E is a smaller variation which encodes only 6 numerical digits.
EAN

Example EAN-13 barcode EAN barcodes are used in Europe for consumer products like groceries, DVDs, clothing and other items being scanned at the point of sale. While EAN-13 (comprising 13 digits) is the default form factor, you'll find EAN-8 (covering 8 digits) barcodes on products where only limited space is available.
ITF

Example ITF-14 barcode ITF barcodes, also known as Interleaved 2 of 5 barcodes, encode 14 numeric digits and are generally used for the packaging level of products. Since they can deal with high printing tolerances, ITF is a good choice when barcodes need to be printed on corrugated cardboard.
Code 39

Example Code 39 barcode Code 39 (or often referred to as Code 3 of 9) barcodes allow the use of digits and characters. Its name originates in the fact that it could only encode 39 characters (in its most recent version the character set has been increased to 43 characters). It is not as compact as the Code 128 barcode, but it is still heavily used in the automotive industry and by the US Department of Defense.
Code 128

Example Code 128 barcode Code 128 barcodes are very high density 1D codes which can utilize any character in the ASCII 128 character set. This broad range of characters enables the storage of diversified information. Mainly used in logistics for ordering, distribution and transportation, Code 128 barcodes are also compact, providing a good data storage to size ratio.
QR Code

Example QR code QR codes are matrix barcodes which consist of black modules spread across a square. QR codes have fast readability and a large storage capacity, supporting four different modes of data: numeric, alphanumeric, byte/binary, Kanji.
Datamatrix

Example Datamatrix code Datamatrix codes are 2D barcodes which consist of black and white cells assembled into a square, much like a QR code. These codes have a very small footprint, which makes them ideal for logistics and operations solutions where small products have limited whitespace. To add perspective, the US Electronic Industries Alliance (EIA) recommends that they be used to label small electronic components.
PDF417

Example PDF417 barcode PDF417 barcodes are special in that they can hold upwards of 1.1 kilobytes of machine-readable data, making them much more powerful than other 2D barcodes. This storage space has been utilized in cases which require the storage of photographs, fingerprints, signatures, text, numbers or graphics. Similarly to QR codes, as a public-domain format, anyone can freely use PDF417 in their solutions.
---
Choose the right barcode for your industry and use case.