How Augmented Reality is Redefining Self-Scanning and Changing Retail
| Retail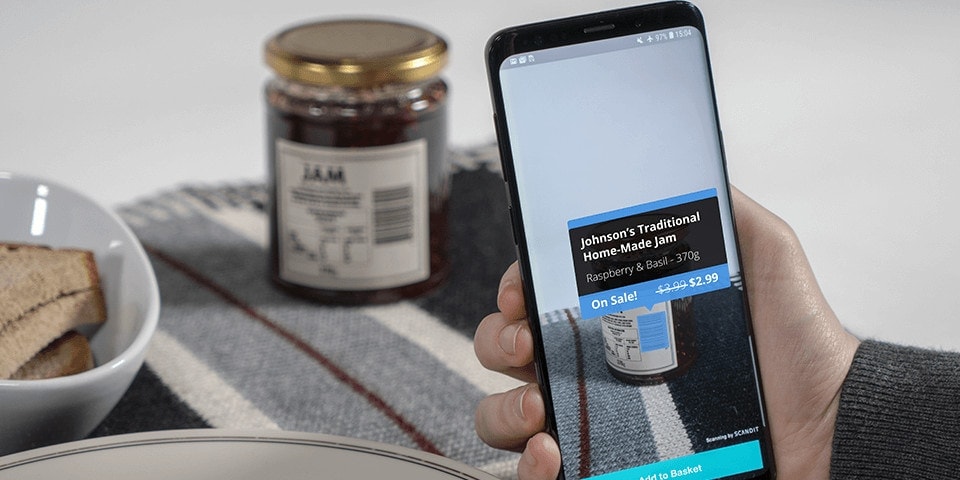 Augmented reality (AR) is revolutionizing the way retailers and customers use smartphone scanning.
AR is a technology that merges the physical and digital worlds together into a single streamlined experience. More to the point, it gives us the ability to point a smartphone at the humble barcode and instantly get product information on our device's screen.
This could be a coupon, a review, or even a product demonstration video. It can even merge the e-commerce experience with what you feel in a physical store.
And consumers like it. In a recent study by thinkmobiles.com, 71% of shoppers said they would shop more often if they could use AR. While, the same study found 40% would consider paying more if they could examine a product through AR.
In the case of using smart devices as augmented reality scanners, the innovation has only just started. But for retailers, AR's potential is almost unlimited. Already many stores are already utilizing AR to improve the bottom line and retail processes.
Here's a brief rundown on a few specific use cases where augmented reality technology could be a true game-changer for your retail enterprise.
Scandit, MatrixScan and how AR can help shoppers
Scandit is a leading provider of mobile computer vision solutions. We empower modern enterprises and consumers alike with intuitive smart device-based retail solutions that help create more efficient shopping experiences.
Our computer vision and augmented reality technology powers mobile apps that turn basic smart devices into enterprise-grade barcode and text-scanning devices. This streamlines regular in-store and back-of-house retail tasks such as shelf management, inventory control and price verification.
The Scandit Barcode Scanner SDK's MatrixScan feature, when integrated in a mobile app, enables users to locate, track and decode multiple barcodes in a single scan.
It can then add on-screen visual feedback to what has been scanned. The user simply hovers the smart device over the barcodes to capture an entire set in a single sequence.
AR allows customers to dive into aspects of the product, which are unavailable in the physical world. Like reviews, ratings, specifications, and availability.
This insight can influence purchase decisions.
Give customers coupons and highlight discounts
AR overlays offer shoppers the chance to get critical information about products right in the store. Sales discounts and offers are a crucial in-store marketing tool. Correctly implementing this can be a challenge both at a local and chain level.
An AR-enabled self-scanning app is an ideal and cost-effective solution to this. It can also provide another way for them to see the offer. Customers may scan items and access detailed information on product pricing, promotions and more through AR overlays.
As this can be done centrally, offers and coupons are quick to update. As a result, allowing stores to react more quickly to what is happening in the aisle.
Augmented reality can provide crucial product information at a glance
Checking through product information can be a major pain point for consumers in-store. For some, the necessity to pick up a product and check the nutritional information can be a chore.
And in the current crisis, people want to be touching them as little as possible.
This is where a smart-scanning app with AR comes into its own. A simple sweep of the phone over the shelf can reveal all of this via the overlay.
These computer-generated assets can even be designed to display unique product characteristics (such as sugar-free or low-fat items). Empowering shoppers to make more informed purchasing decisions, quickly and without hassle.
Search and Find
Some people like browsing the shelves. Others know exactly what they want. But, frustratingly, even though it is in front of them all they can see is a multitude of boxes, packets, and bottles.
Search and Find is the solution. Here you can simply let your smart device do all the work for you.
By scanning multiple barcodes at once, you can search and find that specific item. Again the correct item can be displayed on the overlay.
Use AR to empower your employees back and front of store
By providing your workforce with smart devices equipped with computer vision software, integrated into retail operations mobile apps, your employees gain real-time access to essential product information and customer data through AR overlays.
Other use cases include click and collect, stock checking, and price verification.
Use smartphone scanning and AR to ensure price verification
Retail employees can use smart devices with augmented reality to efficiently correct price errors and rearrange incorrectly placed products.
Store staff can quickly compare product data with actual price labels. These digital retail solutions will overlay the correct pricing information on the screen with an AR display, ensuring accuracy.
In-Store Order Picking
Retail staff can take advantage of AR technology to quickly and seamlessly find the correct products for shoppers with a single touch on their smartphones.
Scandit's MatrixScan makes it possible to scan multiple barcodes simultaneously, and then augmented reality (AR) overlays an alert on the device screen when the correct item is found. So pickers can find the correct customer items much more quickly from a crowded assortment of products.
Search & Find is for employees too
With a barcode scanning-enabled mobile app, employees can quickly and easily locate items based on predefined criteria. MatrixScan does the 'batch scanning' and AR highlights and alerts the user on the device screen.
This functionality is invaluable for the fastest Click & Collect service. Here the employee scans the barcode from the customer's receipt and then locates the right order via a 'search and find' in the stock room.
Shipping & Receiving
With augmented reality-enabled smartphones, warehouse staff can instantly ID and collect orders through one comprehensive app. This provides for a more efficient shipping and receiving effort.
These intuitive retail management solutions require no training and can be quickly implemented across your brick-and-mortar retail teams. Moreover, they generate a fraction of the TCO (total cost of ownership) of traditional scanning hardware.
Stock Taking & Inventory Management
Using in-app augmented reality (AR) with Scandit MatrixScan, retail employees can capture the barcodes of multiple items with one scan. They can then see real-time stock information on the device screen.
It's this type of efficiency improvement that drives up productivity and reduces costs involved in managing store inventory.
AR could change the way stores sell and shoppers buy
Besides the efficiencies to the store operations, adding AR to a self-scanning mobile app can provide a competitive advantage and boost the bottom line. From employees to shoppers, the surface has only just been scratched in terms of use cases.
And with smartphones ubiquitous among young and old, there is undoubtedly a role for AR in in-store marketing.
Many consider Amazon Go to be the best marriage of physical and digital retail features we've seen to date. Now, retailers can achieve an Amazon Go-type experience with computer vision and AR-enabled smart devices for a tiny fraction of the cost.
Our Barcode Scanner SDK provides a simple and easy way to integrate augmented reality. enterprise-grade data capture performance to your mobile retail app, into your mobile app.
Call or message us if you'd like to learn more about augmented reality and how it can position your enterprise for success.