How Does Smart Device-Based Inventory Management Work?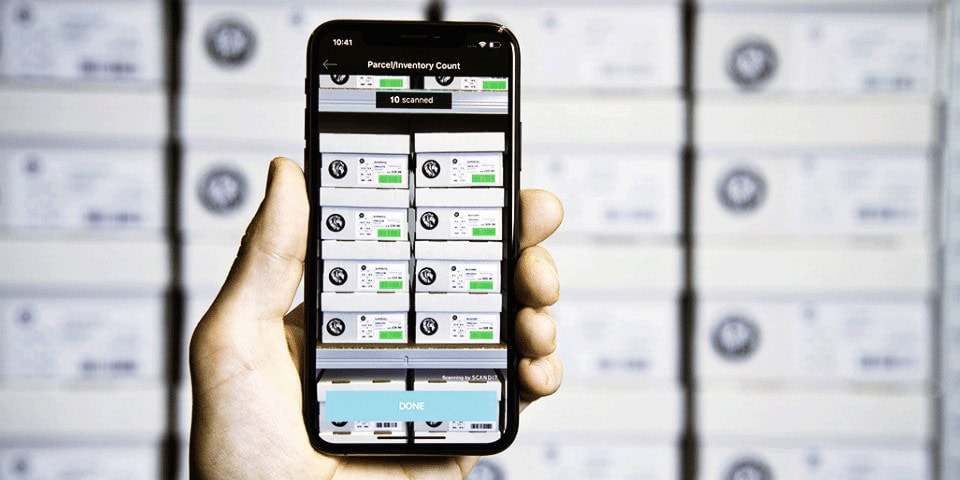 Inventory management is an essential back-of-house process that enables retailers to control and oversee inventory and stock ordering, and distribution in the store. The overarching goal of this process is to ensure the appropriate quantities of products are available to customers at the right time, place, and price. And thanks to innovations in mobile data capture technology, today's retailers can make inventory management more reliable and intuitive than ever before—paving the way for greater profitability and customer service.
At Scandit, we leverage industry-leading smart data capture technology to make enterprise workflows more efficient. That's why leading retailers worldwide work with us to build and optimize their mobile inventory management system applications. Today, we'll be discussing how retailers can harness consumer smart devices (such as smartphones and tablets) to fully mobilize their inventory management efforts—and how your team can bring a solution featuring computer vision software into its supply chain.
Visibility Across Your Inventory Management System
Across all facets of inventory management, there's a need for real-time access to inventory data in order to coordinate team efforts and account for shifts in consumer demand trends. Without transparency, it's almost impossible to efficiently account for changing customer needs and ensure the right items are available to shoppers in the right places and in the right quantities.
In fact, IBM states that a whopping 79% of supply chain officers report that lack of visibility has a major impact on supply chains. That's why savvy retailers turn to barcode scanning-enabled smart device apps to make their inventory management efforts more transparent and efficient.
Breaking Down Smart Device-Based Inventory Management
By equipping staff with smart devices powered by a robust inventory management app, retailers can connect employees across the supply chain with enterprise systems—enabling them to access and update inventory information in real time. From quickly accessing inventory levels and product information to managing the replenishment of products on the sales floor, mobile inventory management apps open up many opportunities to reduce costs and increase productivity.
Using mobile computer vision-enabled smart devices to access your enterprise's inventory management system can play a major role in minimizing labor and hardware costs while simultaneously speeding up enterprise workflows. With a company-supplied mobile inventory management app, employees can use their personal smartphones to scan product barcodes quickly and ensure they are counted properly.
Mobile inventory management apps can also be used to print barcodes, weigh items, and scan multiple products at once to add to inventory counts. These applications can even auto-update inventory levels the moment item codes are captured at the point of sale—or check present inventory levels for a specific item at any time by scanning its barcode.
Traditional Scanning vs. Smart Device-Based Inventory Apps
Before the advent of dedicated scanners and smart-device based apps, all inventory management operations were done by hand. A manager or clerk would count out the exact number of items in stock using a simple calculator or pad of paper. Suffice to say, this process was highly inefficient and prone to human error, which is why most businesses today rely on dedicated barcode scanners when taking inventory.
While inventory management with dedicated barcode scanners is undoubtedly more effective than crunching numbers on a calculator, the sheer costs of deploying and maintaining this equipment across locations make this approach a risky endeavor at best. That's why leading enterprises are turning to Scandit's smart device-based technology to streamline their inventory management tasks.
Scandit's Inventory Management Solution
The Scandit Barcode Scanner SDK integrated into a mobile app transforms consumer smart devices into powerful mobile data capture tools that bring speed, reliability and efficiency to any inventory management system. This mobile computer vision technology for Android, iOS, Windows and Linux equips camera-equipped devices with robust barcode scanning capabilities, enabling them to locate, track and decode several barcodes at once. The Scandit Barcode Scanner SDK offers enterprise-grade data capture efficiency—leveraging state-of-the-art decode image-recognition algorithms to match and surpass the performance of dedicated barcode scanners.
Here are just a few benefits you gain when you integrate our mobile barcode scanning software into your inventory management app:
Reduced Costs
Unlike dedicated scanners, a Barcode Scanner SDK-powered inventory management app can be deployed economically across your entire supply chain. Smartphones powered by our mobile data capture technology deliver the same performance as dedicated devices at a fraction of the cost, particularly if you adopt a BYOD (bring your own device) policy for management and staff. With this solution, employees can use any smartphone to perform inventory management without the need for constant maintenance—generating major ROI for your enterprise.
Supply Chain Transparency
A Barcode Scanner SDK-powered inventory management app gives employees instant access to enterprise systems, displaying the critical information needed to replenish inventory items quickly and accurately. This solution creates full visibility across the supply chain, enabling a more transparent and efficient inventory management system.
Reduced Counting Errors
With a Scandit-powered inventory management app, staff can use their computer vision-enabled smart devices to scan product barcodes in seconds without the need for expensive recounts, ensuring greater efficiency and profitability. Barcode Scanner SDK-powered apps combine enterprise-grade scanning speeds with unmatched accuracy, eliminating inventory counting errors entirely.
Minimal Training Required
Because most employees already use smart devices, Barcode Scanner SDK-powered apps are highly intuitive, making them easy to adopt across your enterprise. During peak inventory times, even temporary workers can use your inventory management app on their personal smart device with little to no training—making implementation efficient and easy.
Note: Now that you have a better understanding of the value mobile inventory management apps can bring to enterprise environments, check out this article for a step-by-step guide on how to implement one into your business.
Mobilize Your Inventory Management With Scandit
If you'd like to learn more about smart device-based inventory management and how you can implement this solution into your retail enterprise, contact Scandit today. You can also check out this free whitepaper on how mobile data capture technology can revolutionize today's retail workflows. Our team would be happy to connect you with any resources you need to understand and capitalize on the potential of barcode scanning software to perfect your inventory management system.