Create Real-time Retail Inventory Awareness with Mobile Data Capture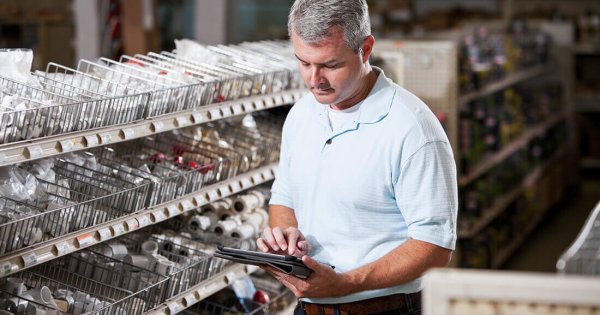 The retail supply chain needs to become responsive to real-time shifts in demand from constantly connected consumers. A customer who is told an item is out of stock will likely find it at a competitor. They also may tell their friends about their negative experience, or even shift their loyalty. Given the much higher comparative cost of obtaining vs. retaining a customer, "out of stock" is no longer an acceptable retail situation.
This new industry paradigm is called seamless retail. Ultimately, the success of seamless retail hinges on real-time inventory awareness. Retailers require total inventory transparency that allows them to track and trace all products at all times.
Fortunately, mobile data capture is the perfect enabler of seamless inventory track and trace operations. Every time a barcode is scanned along the extended supply chain, a retailer can instantly know where inventory is located. From source to shelf, the current location of each product and its accessibility to fulfill specific customer requests is readily available.
Download our new white paper to learn more.
Smartphones running scanning apps can provide the ideal solution for capturing mobile data in the retail supply chain. Upfront cost per unit is substantially lower than that of the typical dedicated scanning device. Total cost of ownership (TCO) can be five times as high for dedicated scanning devices as for consumer devices. Read more about the TCO benefits of mobile scanning in our recent eBook.
Smartphone scan performance is equivalent to a dedicated scanner with the added benefits and broader capabilities of a multipurpose device, increasing ROI. Watch the latest Scandit performance videos to see for yourself. To affordably guarantee the flow of realtime inventory information throughout the enterprise, retailers can support mobile data capture on consumer devices with cloud connectivity.
Cloud-based mobile data capture allows retailers to easily centralize the collection, storage, and analysis of barcode data. Dedicated scanning devices do not offer this type of connectivity.
Leveraging real-time inventory awareness supported by mobile data capture, a customer who visits a local store and finds their desired item out of stock can be given options such as reserving the product at another nearby store or having it shipped to their home from a regional distribution center. Online purchases can be fulfilled from stores, shortening delivery times and reducing strain on fulfillment centers.
Deploying mobile data capture solutions in the supply chain also serves to minimize loss. By scanning goods before and after delivery, retailers can quickly identify and investigate shipment inconsistencies. Barcode scanning at other key intervals in the supply chain can provide further insight into potential instances of theft, damage or other loss prevention events.
The effectiveness of warehouse management activities is also enhanced with mobile data capture. Employee workflows and inventory throughput can be improved with the real-time insight into operations provided by barcode scans.
However, a consumer smartphone may not provide the resiliency or ruggedness needed for certain retail supply chain environments. Distribution centers, shipping/receiving areas, and back-of-store locations are just a few environments where dust, dirt, scanning volumes, and risk of drops and falls can prove overwhelming to a standard consumer smartphone.
Retailers needing to perform scanning in harsher environments may want to utilize iOS devices using the Scandit Case. The Scandit Case provides the ergonomics of a dedicated scanning device with a lightweight form factor which protects smartphones from everyday wear and tear at a much lower cost. The Scandit Case leverages the smartphone's existing electrical components and built-in camera while fully integrating with Scandit barcode scanning software.
For more information on how cloud-based mobile capture and barcode scanning technology from Scandit can support your seamless customer experience efforts download the white paper Enabling Seamless Retail with Mobile Data Capture.