Pics from Euroshop: Demos with Glass and Galaxy Gear
| News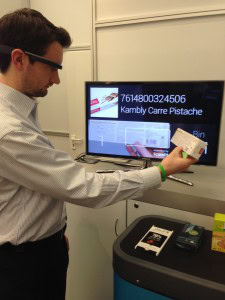 A couple of weeks back we exhibited at Euroshop, one of the world's largest retail shows taking place in Dusseldorf, Germany. Over the course of five days we met with retailers from all over the globe who were interested in discovering new technologies to include in the next generation of retail apps. Smartphone-based barcode scanning was of natural interest, as it enables both consumers and employees to directly interact with products.
In addition to these discussions we had some incredible times sharing wearable barcode scanning demos on Google Glass and the Samsung Galaxy Gear. We've been optimizing our Barcode Scanner SDK to provide a high quality hands-free barcode scanning experience on these wearable computer devices. Check out the pics:
Stay tuned for the release of our newly optimized SDK coming soon!