LogiMAT 2014 – Google Glass in the Warehouse
| News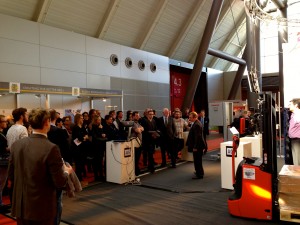 A few weeks ago we participated in LogiMAT, Europe's largest intralogistics exhibition. As a part of the AIM Tracking & Tracing Theatre, we demonstrated the "pick-by-vision" segment of the order fulfillment process. In our demo we utilized Google Glass to scan barcodes on items that were being collected to fulfill an order. Over the course of three days we met with logistics professionals from all over Europe to discuss the future of barcode scanning and the next generation of wearable logistics apps.
In addition to our participation at LogiMAT, we've been optimizing our Barcode Scanner SDK to provide a high quality hands-free barcode scanning experience on these wearable computer devices, and we'll have some exciting announcements coming soon!
Check out the pics:
Stay tuned for our Spring and Summer events schedule, coming soon!