The State of Augmented Reality in 2019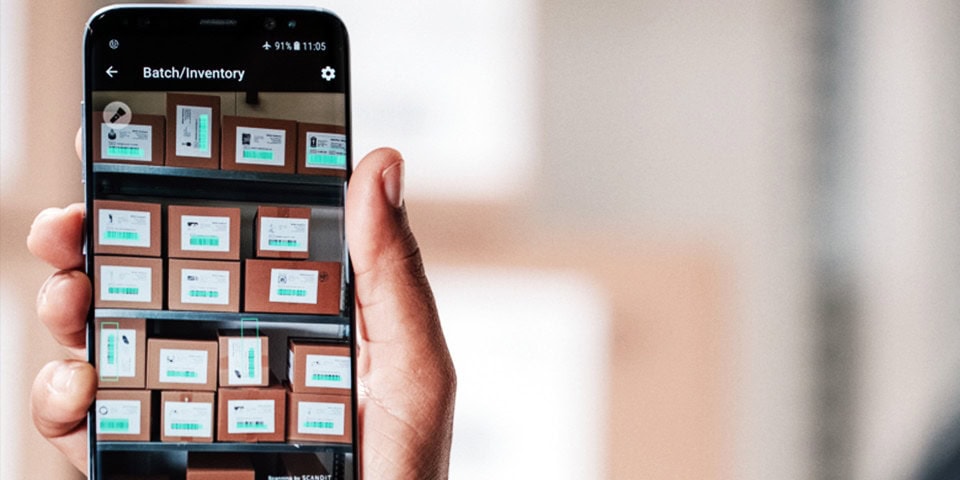 Augmented reality (AR) is taking the worlds of entertainment and enterprise operations by storm. This technology creates computer-generated assets from information captured from objects using computer vision-enabled smart devices. The assets created enable users to gain critical insights on key enterprise workflows. And as AR technology continues to improve, so too does its potential to shape enterprise environments.
At Scandit, we help enterprises integrate mobile data capture and AR technology to streamline and improve workflows across a range of industries. Our proprietary mobile data capture platform transforms consumer smart devices into high-performance data capture machines, lending speed and accuracy to inventory management, proof of delivery, self-checkout, and other processes. Today, we'd like to talk about the direction augmented reality is headed in 2019—and how your enterprise can capitalize on AR innovations to drive better business outcomes.
Augmented Reality's Impact Today
Many industries currently use mobile computer vision software with augmented reality to support more transparent, efficient, and convenient enterprise workflows. For example, retailers using computer vision-enabled mobile apps enable their employees to use AR to get real-time updates on inventory availability, pricing, product details, and more—creating better shopping experiences and better ROI on a variety of in-store and back-of-house processes. Similarly, Post & Parcel staff can use barcode scanning-enabled mobile apps featuring augmented reality to accurately and efficiently sort parcels to optimize distribution.
Enterprises also use AR to assist with employee training. Smart devices enabled with augmented reality devices create simulated work environments that trainees can use to practice operating equipment or complete tasks, enabling faster and more effective training for new or temporary staff. AR feedback and overlays help get employees up to speed much more quickly, reducing human error, lowering the cost of training, and helping to offset the substantial costs of preparing employees to work in specific environments.
AR overlays and feedback are particularly valuable when users are performing multi-code scanning, capturing barcodes from multiple items in a single instance. Multi-code scanning enables users to locate, track and decode several barcodes at once—bringing even greater efficiency to enterprise data capture processes and setting the stage for getting the most out of AR. For example, MatrixScan, an optional feature of the Scandit Barcode Scanner SDK, enables users to capture an entire set of barcodes in a single instance and find the correct box or item in a large assortment with a single scan. AR overlays enable users to identify the right code from a group. Multi-code scanning also enables batch scanning, a process through which a user scans several packages at once and AR overlays on the device screen communicate which codes have and haven't been processed.
The Future of Augmented Reality
Now that we've covered how enterprises are currently using AR in operations, let's discuss what changes the upcoming year could bring.
Evolution of Wearables
While smartphones and tablets reign supreme across many of today's enterprise workflows, there's massive growth opportunity for wearables in 2019. Wearables are effectively head-mounted devices (like Google Glass) that feature data capture capabilities. These advanced enterprise solutions feature real-time object recognition, indoor navigation, and barcode processing capabilities—and can be integrated into complex systems such as a WMS (Warehouse Management System).
The unique advantage of wearables is that they enable users to leverage augmented reality technology hands-free. This is particularly beneficial in fast-paced work environments like warehouses or brick-and-mortar stores. With wearables, employees can quickly and safely access real-time digital support while carrying items or operating other equipment—using these insights to work more efficiently and accurately.
Developers of wearable augmented reality devices are currently experimenting with incorporating 3D depth sensors, which allow users to physically alter and reposition AR displays at their convenience. We can expect further developments in this technology in the coming years—enabling even more intuitive and efficient mobile data capture efforts.
New AR Capabilities for Smartphones
AR will continue to evolve on smartphones as well. According to insider information from Economic Daily News, Apple's 2019 iPhone will feature three rear cameras—creating potential for exciting new AR features. ARKit will also see more development over 2019, expanding on its ability to support multi-user augmented reality—which could be used for AR games, social media, or even enterprise applications through smartphones.
Increased Adoption of AR Training
With many large brands (like Walmart and Tyson) finding success with AR training in 2018, you can expect even more industry titans to employ this technology to streamline employee onboarding. 2019's more affordable and versatile wearables (such as the upcoming Oculus Quest) will make it significantly easier for large to mid-sized businesses to build and sustain AR-supported training programs. Upcoming AR systems are also experimenting with more advanced built-in engagement-measuring features—lending greater reliability and transparency to these training initiatives.
Increased Reliance on AR for Logistics & Retail
As AR technology continues to advance, it unlocks new use cases for businesses—particularly in the fields of logistics and retail. We've been aware of the potential of AR in logistics for years, and now that AR solutions are more accessible and powerful than ever before, you can expect even more leading logistics companies to invest. From streamlining order entry and mobile proof of delivery to asset management, AR is poised to make a massive impact on logistics companies in 2019.
We expect adoption of AR among retailers (and other industries) to grow in 2019 as well. Augmented retail technology like that featured in the Scandit Barcode Scanner SDK can transform typical brick-and-mortar stores via mobile barcode, text, and object recognition capabilities—fully digitizing in-store retail. Expect leading retailers to adopt augmented reality-enabled smart devices (such as smartphones or tablets) to support and optimize a variety of retail workflows, including clienteling, mobile POS, in-store picking, price verification and much more.
Support Smarter Enterprise Operations With Augmented Reality
Ready to learn more about AR technology and how it can help your enterprise find success in 2019? Then be sure to check out our whitepapers and eBooks. These free and exclusive resources will help you understand the real business value behind AR-enabled mobile data capture solutions—and how to find the best one for your unique industry and business. You can also connect with us for more information on devices and software featuring augmented reality in general.